Views
Why are we still in drought?   
This summer was the driest in the UK since 1995, and the second hottest summer on record. Temperatures exceeded 40◦ Celsius in some parts of the country for the first time. 
The hot weather led people to use more water, with peak demand increasing by 40% in some areas. This meant water companies had to supply hundreds of millions of litres of extra water each day – the equivalent of adding whole new towns to the network. Because of these unprecedented conditions some water companies needed to bring in localised temporary use bans (hosepipe bans) to manage demand and protect the environment.   
Despite the onset of Autumn bringing much needed rain to parts of the country, much of the country remains in drought and as of November, four water companies still have hosepipe bans in place. When it's pouring with rain outside it is natural to question the need for restrictions on water use, but it's important to understand the severity of the situation at the end of the summer. Indeed, despite the rain, by the end of October, England has had the driest year – so far – since 1976, according to the Met Office. 
That's why we're asking the public to continue to save water despite winter being around the corner. Our Water's Worth Saving campaign will continue for the rest of the year and will offer hints and tips on how to cut water use, reduce energy consumption and save money during the winter.  
Preparing for 2023   
We rely on rainfall during winter to resupply water sources, including reservoirs, lakes and rivers – some of which are low for the time of year – and also to 'recharge' groundwater. This is water that is collected in underground reservoirs (known as aquifers) after filtering through the earth, which relies on winter rain. Around one third of the public water supply for England and Wales comes from groundwater, but this is in concentrated areas. In southern England, for example, around 80% of supplies come from groundwater.  
This is why the ongoing drought matters so much, and it is why companies are taking steps to give water sources the best chance of replenishing (including the continued use of restrictions). 
Across the industry, tackling leakage is already a top priority, having fallen by 11% in England in the last few years. Companies have steep reduction targets to meet, including an ambitious target to cut leakage by 50% by 2050.  
Efforts to repair leaks have been redoubled, with leakage teams increasingly using advanced technology. Anglian Water has been using drones to detect leaks, and Cambridge Water has deployed ground penetrating radar. This year SES Water became the first UK water company to roll out smart technology across their entire network to help detect leaks. The network highlights issues in near real-time, with data received from sensors in the network every minute. This is directly reported to repair teams, so they can respond rapidly, keeping customers supplied, and reducing the amount of water lost.  
Many companies are carrying out home visits to hand out free water-saving devices, deliver advice on how people can save water at home, and fixing leaks in the home, including leaks in loos – which can waste as much as 400 litres a day (the equivalent to having two extra people living in your home).   
Some companies are offering discount schemes for business customers who substantially reduce their usage. Some are also offering discounted connection charges for developers who add homes to the network which are built with water efficient fittings. These schemes mean that people moving into these brand-new homes will more than likely use less far water than they did in their old home.   
Long-term planning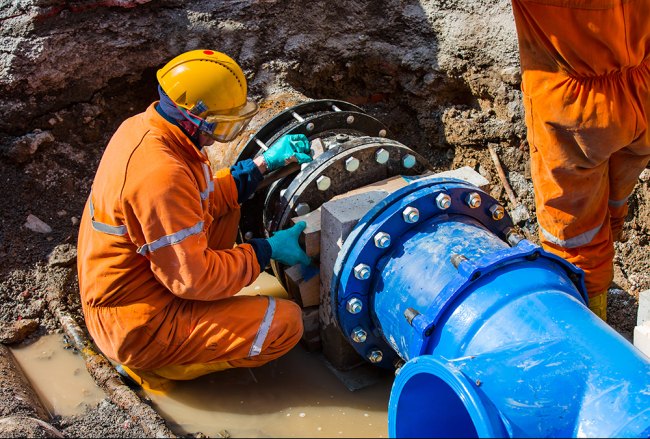 In the long-term, each company has developed a 25-year Water Resource Management Plan to ensure water demand and supplies remain balanced, and to reduce the impact of future drought conditions.   
As part of those plans, published later this month, the water industry has already completed a large number of major schemes to improve the resilience of water supplies and ease pressure on sensitive water sources.  Past projects have included the Birmingham Resilience scheme, Bristol Water's Southern Resilience Scheme, and £230million of investment by Wessex Water on a grid to move water to where it is most needed and reduce abstraction from chalk streams.  
But the pressure of climate change will continue to challenge society, and companies have made a further 18 proposals for major cross-country projects that together would increase capacity by over 15%. This includes major water transfers, moving water across the country from an area of water surplus to areas where the shortfalls are the greatest, such as the southeast.  
Companies have also proposed other projects, including reservoirs. These projects are currently being scrutinised by regulators, and, if approved, would see an overall investment of £14 billion from the sector.   
2023 could be tough 
During this year's record-breaking summer, comparisons were often made, particularly by the media and commentators, with the drought of 1976. People who lived through this period recall standpipes in the street, collecting water for drinking and washing by the bucket. This year such scenes were not repeated, thanks in part to more resilient supplies.   
Heading into 2023, forecasts by the Environment Agency suggest that if this winter is dry, with 80% or less of the usual amount of winter rainfall, then large parts of the country will likely be at risk of drought continuing into next summer. Around two-thirds of water companies would see their supply areas impacted by these conditions. Such a dry winter risks the start of 2023 reflecting the position at the start of 1976.  
What happens with the weather between now and summer 2023 will dictate whether temporary use bans are necessary when the temperature rises. Water companies have a huge role to play but there are things we can all do to minimise the likelihood of restrictions next summer. While we can't rule out another summer like 1976, we are more resilient than we've ever been and water companies will be working to ensure those memories of standpipes in the street remain where they belong, in the past.